Comprehensive insight has been provided into the epidemiology of the NSCLC and its treatment in the 7MM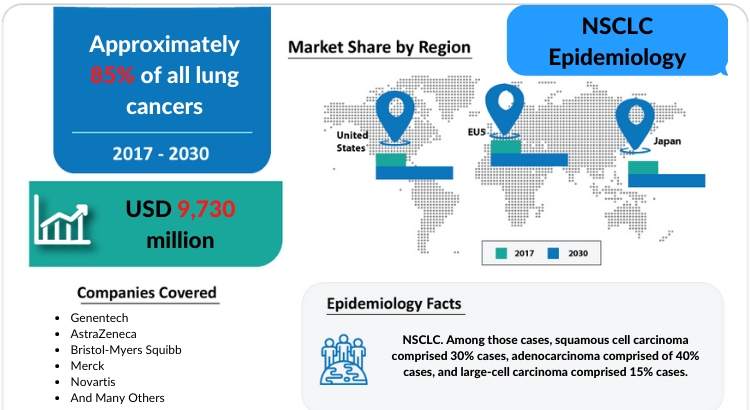 "NSCLC Epidemiology" report has been added to DelveInsight
Overview of NSCLC epidemiology, pathophysiology, various diagnostic approaches, and treatment algorithm, including detailed chapters for marketed products and emerging therapies
Download free sample copy- https://www.delveinsight.com/sample-request/non-small-cell-lung-carcinoma-nsclc-epidemiology-forecast
NSCLC Disease: Overview
NSCLC is the most common type of lung cancer accounted for approximately 85% of all lung cancers. However, NSCLC metastasizes to other organs slower in comparison to SCLC, and microscopically, SCLC is composed of much smaller cells. NSCLC is mainly subcategorized into adenocarcinomas, squamous cell carcinomas, large cell carcinomas and several other types that occur less frequently include adenosquamous carcinomas, and sarcomatoid carcinomas.
NSCLC Disease: Geography Covered
The United States
EU5 (Germany, France, Italy, Spain, and the United Kingdom)
Japan
Key facts of NSCLC Epidemiology Report
According to the American Cancer Society, out of the total lung cancer cases, approximately 80─85% of lung cancers are NSCLC. The main subtypes of NSCLC include adenocarcinoma, squamous cell carcinoma, and large cell carcinoma.
According to the SEER if the cancer is found only in the part of the body where it started it is localized (sometimes referred to as Stage I). If it has spread to a different part of the body, the stage is regional or distant. The stage-specific cases of NSCLC are 16%, 22%, 57%, and 4% for the localized, regional, distant, and unknown stage.
According to the research study of Serizawa et al. (2014), the stage-specific diagnosed cases were observed to be approximately 25%, 7%, 21%, and 46% for Stage I, Stage II, Stage III, And Stage IV cases of NSCLC.
According to the research study of Alaoui et al. (2016), the 5-year survival rates after surgical resection are 60%–80% for Stage I NSCLC and 30%–50% for Stage II NSCLC patients. More than 70% of NSCLC patients are diagnosed in advanced stages of metastatic disease. Also, the 5-year survival rate varies between 10% to 15% for Stage IIIA disease and 2% to 5% for Stage IIIA with mediastinal involvement. Stage IIIB NSCLC signifies approximately 17.6% of all lung cancers with a 5-year survival rate of 3% to 7%.
NSCLC Epidemiology Segmentation
Total Incident cases of NSCLC patients in the 7MM [2017–2030]
Total Diagnosed cases of NSCLC patients by Stages in the 7MM [2017–2030]
Total NSCLC cases of patients by Genetic mutation/Biomarkers in the 7MM [2017–2030]
Total Incident cases of NSCLC patients by Histology in the 7MM [2017–2030]
Total Treated cases of NSCLC patients by Line of Therapies in the 7MM [2017–2030]
Growth of NSCLC Market is expected to be driven by increasing incident case of NSCLC, continue uptake of approved therapies mainly immune checkpoint inhibitors, expected entry of potential premium price emerging therapies and increasing awareness of mutations like BRAF, c-Met and others; currently there is a lack of potential treatment options for these mutations but now companies are working thoroughly towards the development of mutation specific therapies.
Currently the mainstay of treatment is immune checkpoint inhibitors, combination of targeted and immunotherapy with chemotherapy. Although in future, scenario is going to be changed as most of the companies are targeting specific mutations to treat the NSCLC patients.
Patients of NSCLC with the resectable disease may be cured by surgery or surgery followed by chemotherapy. Local control can be achieved by radiation therapy in a large number of patients with unresectable disease. On the other hand, patients with the locally advanced unresectable disease may achieve long-term survival with radiation therapy combined with chemotherapy and the patients with advanced metastatic disease may achieve improved survival and palliation of symptoms with chemotherapy, targeted agents, and other supportive measures
NSCLC Epidemiology Insights
Lung cancer imposes a major disease burden on the world. Worldwide, lung cancer remains the most common cancer diagnosed and the greatest cause of cancer-related death. Because of its extraordinary disease burden and the international variability in trends for population growth, aging, and smoking behavior, the global epidemiology of lung cancer requires continual monitoring.
NSCLC Report Highlights
11-Year Forecast of Non-Small-Cell Lung Carcinoma (NSCLC) epidemiology
7MM Coverage
Total Cases of Non-Small-Cell Lung Carcinoma (NSCLC)
Total Cases of Non-Small-Cell Lung Carcinoma (NSCLC) according to segmentation
Diagnosed cases of Non-Small-Cell Lung Carcinoma (NSCLC)
Following is the TOC of NSCLC epidemiology report
1. Key Insights
2. Executive Summary of Non-Small-Cell Lung Carcinoma (NSCLC)
3. Non-Small-Cell Lung Carcinoma (NSCLC): Disease Background and Overview
4. Patient Journey
5. Epidemiology and Patient Population
6. Treatment Algorithm, Current Treatment, and Medical Practices
7. KOL Views
8. Unmet Needs
9. Appendix
10. DelveInsight Capabilities
11. Disclaimer
12. About DelveInsight
Why should you buy this report?
The Non-Small-Cell Lung Carcinoma (NSCLC) Epidemiology report will allow the user to –
Develop business strategies by understanding the trends shaping and driving the global Non-Small-Cell Lung Carcinoma (NSCLC) market
Quantify patient populations in the global Non-Small-Cell Lung Carcinoma (NSCLC) market to improve product design, pricing, and launch plans
Organize sales and marketing efforts by identifying the age groups and sex that present the best opportunities for Non-Small-Cell Lung Carcinoma (NSCLC) therapeutics in each of the markets covered
Understand the magnitude of Non-Small-Cell Lung Carcinoma (NSCLC) population by its epidemiology
The Non-Small-Cell Lung Carcinoma (NSCLC) Epidemiology Model developed by DelveInsight is easy to navigate, interactive with dashboards, and epidemiology based with transparent and consistent methodologies. Moreover, the model supports data presented in the report and showcases disease trends over 11-year forecast period using reputable sources
Contact us
Shruti Thakur
+91-9650213330
https://www.delveinsight.com/
Media Contact
Company Name: DelveInsight Business Research LLP
Contact Person: Vinita Rakheja
Email: Send Email
Phone: 9193216187
Address:304 S. Jones Blvd #2432
City: Albany
State: New York
Country: United States
Website: www.delveinsight.com/