Introducing Grandmaster Shifuji Shaurya Bhardwaj, a Freelance Commandos Mentor and Expert in Counter-Terrorism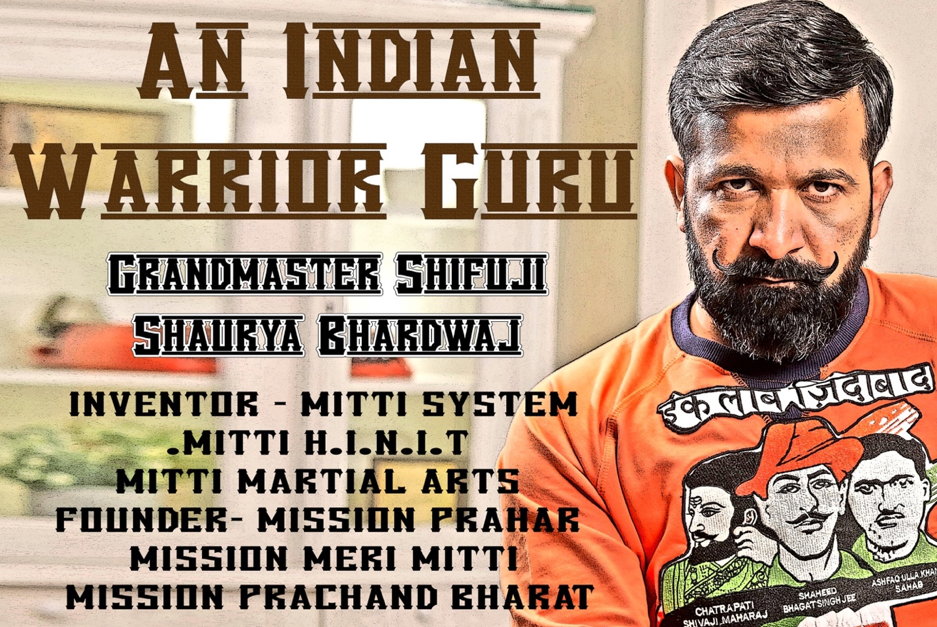 Becomes the World's Youngest INVENTOR of The most lethal, most effective Counter Insurgency and Counter Terrorism System "Mitti System". Grandmaster Shifuji Shaurya Bhardwaj "Freelance Commandos Mentoring Pioneer in the World".
The World has continued to battle with various forms of vulnerabilities issues, with several stakeholders coming up with solutions to the crisis. However, Grandmaster Shifuji Shaurya Bhardwaj made history by becoming the World's youngest inventor of the Deadliest customised counter-terrorism, customised counter insurgency system and customised Urban Warfare. The pioneer in the Elite special forces "Freelance Commandos Mentoring" and extreme robustness Mitti boot camps industry appears to help the World reduce terrorism to the barest minimum with his utmost Integrity, knowledge and unbelievable experiences.
Selfless Services to the Motherland
Grandmaster Shifuji is immensely respected by billions of youth mainly because He NEVER shares any detail online related to his MITTI SYSTEM's, Freelance Commandos mentoring services for his private or professional branding. He is frequently targeted, slandered, trolled Online, But, He refuses to share any detail because he prefers to hold any such information as A confidential, classified protocol of MITTI SYSTEM's fundamental character. A Few Hundred Trolls him as Fake, Fraud and Billions Love him as A LIVING LEGEND. He becomes the World's Youngest INVENTOR of The most effective Customised Counter-Terrorism "Mitti System".
Grand master Shifuji Shaurya Bhardwaj invented "Mitti System," in 2002. A completely "Free of Cost" mentoring services program mainly devoted to the elite special forces, Indian armed forces and Indian Paramilitary Forces. MITTI System is considered as an indigenous Swadeshi Customised Situation Reaction Tactics (SRTs) based program. The program is customised for armed close quarter battles with and without SRW or LRW. The system focuses on the most responsive reflexes, invisible upper body agility, strength and the principal rule of 'NO RULE' in armed direct urban warfare. He is well regarded in the Elite SF Commandos, Specialised Operations actions Groups, World's security architecture and ranked as one of the World's greatest 2 Living Legends, The deadliest and the topmost freelance professional commandos mentors in the field of fully Armed Counter-Terrorism & Lethal Counter-Insurgency. The other one is Colonel Sharon Gat from Israel, The Founder & CEO of Caliber 3, A serving colonel, an IDF Veteran and the senior-most chief instructor of Israeli Special Forces and IDF.
Grandmaster Shifuji Recognised As "The World's Best Commandos Mentor", "THE DEADLIEST MAN ALIVE IN THE WORLD" and The "World's Best Commando trainer". He is the only foreign citizen and first-ever Indian citizen to have completed the graduation certificate and PhD certificate from ISRAEL in the most lethal counter-insurgency, counter-terrorism, and wholly equipped urban combat. He Has a massive following that believes in the APOLITICAL patriotism. The youth especially respect him because of his bold attitude, extreme fitness routines, selfless services for youth, revolutionary perspective and Yes, mainly because He "NEVER" shares anything online related to his Freelance Commandos Training, Commandos Mentoring services for his branding purpose. He is indeed a humble man to genuine people, but the deadliest to bad fellows.
Grandmaster Shifuji is also a senior most expert in armed close quarter battle and fatal close-quarter combats, kalaripayattu gurakkal Guru, topmost celebrity life coach, action choreographer, an uppermost class renowned martial artist in almost all existing full contact forms, high-performance coach, an actor, Indian hath Yogacharya, corporate motivational speaker, freelance commandos mentor, action guru, singer, revolutionary poet, writer, historian, revolutionary orator, researcher, chief action designer and freelance warfare procedures analyst.
Grandmaster Shifuji's Attitude towards life, self-belief and persona prove that The Jungle Does not have the elections. Still, Lion's Attitude proves the World that the Lion is unquestionably the King of the Jungle.
Grandmaster Shifuji is respected for his selfless and most realistic solution-based approach towards any significant issue. He founded "Mission Prahar" in 1999 to educate, train, and empower women with his Invented Mitti Martial Art's extreme self-defence survival tactics across rural India. His Mission Prahar has already trained more than four million women "free of cost" in specialised anti-domestic violence tactics section of MISSION PRAHAR training system. Grand master Shifuji is also the Founder and chief managing director at "SASS9" Shifuji's Advanced Security Solutions 9.
Grandmaster Shifuji "The deadliest man alive in the world" takes excellent inspiration from Legends, Freedom Fighter and revolutionaries like Shaheed Bhagat Singh. Chandra Shekhar Aazad maintains a similar moustache and wears clothes with the revolutionary's printed face like Bhagat Singh, Subhas Chandra Boss, Chatrapati Shivaji Raje and Maharana Pratap. His clothing style has become a status symbol of Patriotism in India. Billions of Indian youth hope to be Like Grandmaster Shifuji Shaurya Bhardwaj.

Image – Grandmaster Shifuji Shaurya Bhardwaj Being Felicitated by the General and officers of The Indian Army.
(Location – Somewhere in Jammu & Kashmir)
The First Mission – Grandmaster Shifuji Shaurya Bhardwaj is busy with Three dream projects. First is 'Mission Prachand Bharat' project which will educate all Indians in the Gurukul's manner, the way he was brought up. The gurukul system is intended to instil good moral values, pride and nationalism, along with "Sanatan and Vedic military training, skills with disaster management and extreme survival tactics. Mission Prachand Bharat is to mentor the youth in deferent practical-based skills, prepare them to be accountable, and generate 50 Million Jobs for Indian youth.
The Second Mission – Master Shifuji's second dream project is "MISSION PRAHAR" women empowerment and women employment program to train a minimum of 10 million women of all ages, especially in rural India. Instil them with a calculated assessment based confidence to protect themselves against threats such as domestic violence and extreme street survival. Master Shifuji's Mission Prahar Education and Training Trust is working vigorously to Mentor and Train 40-50% of trainees to be instructors to generate their respectful living.
The Third Mission – "MISSION MERI MITTI" "My soil My identity" is a completely "Free of Cost "countrywide patriotic campaign with MITTI BOOT CAMPS's training program. This Mission focuses on inspiring, mentoring and training Indian youth to be an employable, valuable and responsible citizen of the motherland. Mission Meri Mitti organises Free of Cost Mitti Boot Camps and trains youth to handle extreme physical and mental challenges in real life.
Grand master Shifuji is well known for being the Mentor, Life Coach and Master of Superstar Tiger Shroff, Ahan Shetty and Subhan Khan Nadiadwala. As an action consultant and action designer, He has mentored and worked with Warda Khan Nadiadwala (Producer), Itzik Cohan (Israeli Filmmaker, Producer), Galit Giat (Israel), Maayan Refaeli (Israel), Ajay Devgan, Karim Cohen (Israel), John Abraham, Krishika Sunil Lulla (Producer), Bat-El Musawi (Israel), Shraddha Kapoor, Shantanu Yadav, Vidyut Jamwal, Javed Jaffrey, Nora Fatehi, Lisa Ray, Nissim Garamech (Israel), Sudheer Babu, Varinder Singh Ghuman.
His other notable missions are Mission Meri Mitti, Mission Prachand Bharat Shaurya, Mission Compulsory Military Training, Mission Muzaffarabad, Mission Shahadat Samman, Mission Jai Hind Bro, Mission harat Math, Mission Vedic Military School, Mission Mitti Boot Camp.
Media Contact
Company Name: Mastershifuji.com
Contact Person: Grandmaster Shifuji Shaurya Bhardwaj
Email: Send Email
Phone: +913459679650
Country: India
Website: https://www.mastershifuji.com/