DJ Fredy Muks Drops Brand New Summer Anthem 'Turn Up' With Goya Menor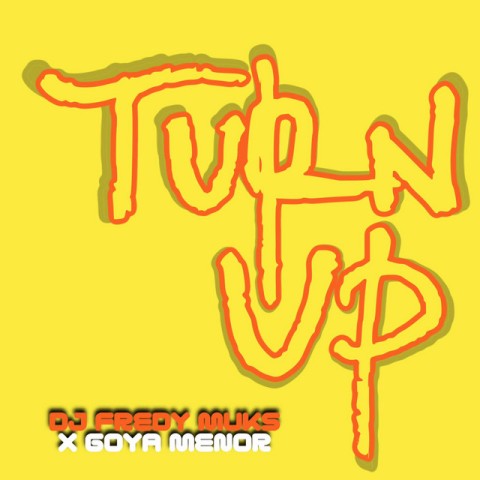 International DJ and music producer Fredy Muks has teamed up with rising star Goya Menor for a new summer anthem that is sure to get people on their feet. The track, titled "Turn Up," is out now and is already making waves in the music scene. 'TURN UP' IS OUT NOW Get ready for the sound of the summer. Ahead of the release of his highly anticipated debut album, 'BOMBOY', Goya Menor has teamed up with international producer and performer DJ Fredy Mucks for the irresistible new track, 'Turn Up'.
A high energy fusion of Afrobeat and Amapiano, with a retro layer of 90s hip hop, this is the culmination of two artists at the very top of their game. From the heavy LOG bass line to the unforgettable drums and synth melodies, 'Turn Up' marries traditional African music and Western sounds to create a perfect Afro Pop club tune. Both immensely successful musicians in their own right, Mucks and Menor have amassed tens of millions of views on youtube and reached number one in countries across the world. Now, they join forces for a track like no other. This is one you're going to want to turn up, and turn up loud. The Artists Follow DJ Fredy Muks and Goya Menor on their socials and keep up with the latest drops:
About DJ Fredy Muks:
The international multi-genre music producer and performer has been collaborating with some of the most exciting recording artists from across the entire world. With roots in Cameroon but a life lived world wide, Mucks is loved by his fans for his incredible mashup skills, fusing popular hits with eclectic, diverse sounds. Make no mistake, when it comes to new remixes and afrobeat mashups, this man has the Midas touch. Board Chairman for global music at the Recording Academy, Fredy is a highly accomplished musician, working with some of the most exciting new acts on the scene, such as:
Achley Bachley
Afro B
Fatima Altieri
Lil Flip
D'banj
As well as his addictive new release with Goya Menor, he recently joined the star studded lineup of Madaraka Festival USA TOUR, Performing alongside Sauti Sol, Eddy Kenzo, King Kaka, Draze, Anthony Cole, Tacoma Refuge Choir and One vibe Band, the show will tour across the US later this year. Dates include:
16th May, New York, Irving Plaza
21st May, Atlanta, Buckhead Theatre
24th May, Dallas, House of Blues
26th May, Seattle, Northwest Folklife Festival
26th May, Seattle, Benaroya Hall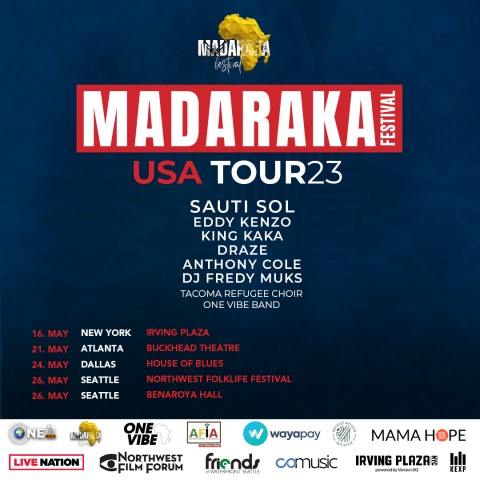 When not making magic onstage, Fredy is hard at work as the founder and lead producer of Muks Entertainment. Muks Entertainment's goal is simple; to produce original and groundbreaking entertainment that has a genuine impact. Working across music, television, events and multimedia platforms, the tone of their work is a celebration of life and people. They're proud to have supported a number of passionate and immensely talented artists bring their vision to life and achieve their dream. Muks Entertainment is committed to reinvesting in communities through charitable contributions and initiatives.
For more details please these social channels.
Instagram: https://www.instagram.com/fredymuks/
Twitter: https://twitter.com/fredymuks.
Facebook: https://www.facebook.com/djfredymuks/.
About Goya Menor:
With the Nigerian music scene being a breeding ground for exciting new talent, Goya Menor is certainly no exception. Born in Edo State, Menor was raised alongside his brothers and sisters in the city of Ekpoma. Showing immense talent from an early age, he began his career with numerous underground hits before achieving breakout success with the chart topping songs 'Bounce' and 'Ameno Amapiano Remix' in 2021. The latter succeeded in reaching number one in Nigeria, Zambia, Kenya, Ghana, Uganda, South Africa, Jamaica, Thailand, Sweden and many more.
The Premium Times Nigeria said of Menor, "These are the lyrics almost every Nigerian youth is currently vibing to on social media. The ladies can't get enough of it and neither can the DJs. Ameno Amapiano Remix is no doubt the tune of the season and the official 'Detty December' anthem. Fast-rising Nigerian singer Goya Menor is the star of the moment and man behind the track.
"Bringing a unique energy, diversity and hype to every song, he has accumulated millions of views on Youtube, whilst receiving over half a million monthly listeners on Spotify. With the highly anticipated release of his debut album 'BOMBOY' on the horizon, this promising young talent is fast becoming one of the most celebrated Nigerian music artists working today. Get In Touch To find out more about this exciting new release.
For Dj Fredy Muks and Goya Menor's other work, please visit
https://www.instagram.com/fredymuks.
Instagram: https://www.instagram.com/goya_menor/?hl=en
Twitter: https://twitter.com/goyamenor
Facebook: https://www.facebook.com/GoyaMenor/.
Stream right now:
Spotify: https://open.spotify.com/track/59E9m7Bdo0MbkkbnLeIsI4.
And check out the brand new video:
Youtube: https://www.youtube.com/watch?v=NVHNmibR1oo.
Media Contact
Company Name: Muks Entertainment
Contact Person: Lari Pasco
Email: Send Email
Country: United States
Website: https://www.instagram.com/fredymuks