Le Good Society launches global Earth Day outdoor art exhibition, 'Make Earth Day Everyday'
The exhibition's goal is to inspire everyone to take action and live a more eco-friendly life this Earth Day & every day.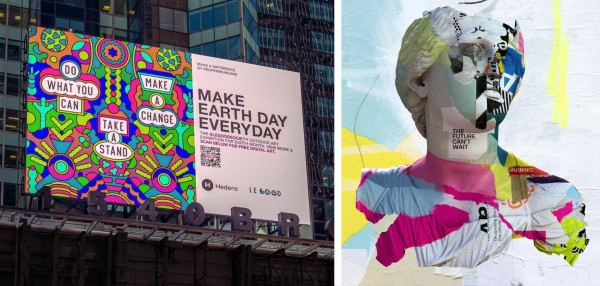 (Photo Credit: Make a difference by @supermundane in New York's Time Square and The Future Can't Wait by Tom Hodgkinson)
In light of the recent ICCP Report, scientists deliver 'final warning' on climate crisis: act now or it's too late. Since 1970, billions of people from more than 190 countries have come together every April 22nd to call on individuals and governments alike to take action towards a greener, more healthier future for our planet. But we all know one day or even one month is just not enough.
Le Good Society, a UK-based organisation committed to creating positive cultural shifts through arts and technology, has united a group of talented artists to inspire one and all to live a more eco-friendly and sustainable life this Earth Day & everyday.
Titled 'Make Earth Day Everyday', the exhibition is being showcased across the globe in New York's Times Square, London, Amsterdam and Singapore's Ten Square on large digital screens viewed by 100,000's of people everyday from the 10th-30th April.
Artists involved include; Dave Pollot, Supermundane, JOJO ABOT, Steven Wilson, Tia Grazette, Cory Van Lew, Dead Pixels Ghost Club, Tom Hodgkinson, i, Mila Lolli, Jasmina Zornic, Corinna Wilson, Sam J and the 2 winners of the Le Good Society & Hedera Earth Day Art Contest; Digitalgyoza and Vasinesco.
Launched in aid of Earth Day and during Earth Month, the outdoor art exhibition hopes to create awareness of environmental issues and inspire, educate, remind and motivate all who see it to take action, however they can, towards a more sustainable way of living.
Le Good Society founder Tia Grazette elaborates, "We wanted to utilise the power of art to remind everyone that the actions they take every day, no matter how small or big, can make a difference. We are all responsible for the state of the planet. Let's raise our voices and take whatever actions we can towards creating a better future for one and all."
Supermundane's illustration captures the core values of Earth Day by poetically encouraging one and all to 'Do what you can. Take a stand. Make a change' on a backdrop of coral and microscopic worlds. While Cory Van Lew paints a somewhat distraught and exasperated figure, maddened by the state of the world and screaming at the top of his voice, 'Time to wake up'. On the other hand, Steven Wilson puts the onus on the individual and businesses alike by asking, 'What Future will you build', while Bob and Eve pay tribute to the late Vivienne Westwood by weaving her famous mantra, 'Buy Less. Choose Well. Make it Last' into a colourful wool piece for all to remember while out shopping.
In addition to the outdoor art exhibition, Le Good Society has released a free Earth Day digital art piece by illustrator Steven Wilson, titled 'What Future', to commemorate the exhibition and inspire action amongst its owners. Distributed via the Sayl platform utilising the Hedera Network, this digital art work can be claimed via the Le Good Society website and may or may not give the owners access to other things over the coming months. Either way, it is a great piece of art to display and a great first digital asset for anyone.
'Hedera is honoured to support the 'Make Earth Day Everyday Art Exhibition'. With a sustainable mindset at the heart of the network, nothing could be more important than heightening the conversation and awareness around the state of the planet this Earth Day. Hedera provides a platform for traditional artists and digital artists to showcase and create fair value exchange of their work, while aligning with their environmental values' said Christian Hasker, CMO of SwirldsLabs.
Some of the original art featured will also be available to purchase on the 19th & 20th April only via an online auction with Hedera Sentient, where every $1 raised will plant 1 tree this Earth Month. We all know how good trees are for the planet and at this critical time, it is more essential than ever to keep planting them in order to remove CO2 from the atmosphere. And at $1 a tree, there's just no excuse not to give back to the planet.
The outdoor art exhibition runs until 31st April.
View more about the exhibition, claim your free Earth Day Collectible Digital Art and find out more about the online auction on 19th-20th April via www.legoodsociety.com
About Le Good Society
Le Good Society uses art and technology to spread the word about urgent environmental and social issues. A platform and community that cares for people and the planet, it strives to deepen public understanding and encourage policies for sustainability and consumer ethics. Le Good brings together artists, writers, poets, musicians, filmmakers, researchers and scientists to explore, educate and inspire positive shifts in behaviour and culture. To learn more about Le Good Society, the exhibition and claim your free digital art piece, visit: legoodsociety.com | @legoodsociety
About The Hedera Network
Hedera Hashgraph is the most used, sustainable, enterprise-grade public distributed ledger for the decentralised economy that has been described as a successor to blockchain technology. Dedicated to building a trusted and secure online world that empowers the individual, it provides increased speed, fairness, low cost, and security – where one can work, play, buy, sell, create and engage socially on the Hedera ecosystem in a safe and private manner. A carbon-negative network, Hedera Hashgraph has been cited as the most greenest, most sustainable proof-of-stake digital asset by UCL Research.
One transaction on the Hedera Network uses 1000th of the energy used by one Visa card transaction.
For more information, visit www.hedera.com, or follow us on Twitter at @hedera, Telegram at t.me/ hederahashgraph, or Discord at www.hedera.com/discord. The Hedera whitepaper can be found at www.hedera.com
Media Contact
Company Name: Le Good Society
Contact Person: Lake Higgins
Email: Send Email
City: London
Country: United Kingdom
Website: www.legoodsociety.com