Bobby Morong is helping people of all ages and ability levels learn to tie their own shoes with Training Ties®
Training Ties® helps you learn how to tie shoes. Training Ties® were invented by Bobby Morong which helped his students learn how to lace shoelaces and later he established a brand which helps if you don't know how to tie your shoes. He has been a Physical Education and Special Education Elementary school teacher in and around Boston for over 20 years. Unfortunately, COVID caused his district to eliminate his position in early 2020 so after all of his life being a teacher, he suddenly found himself at a loss without a career.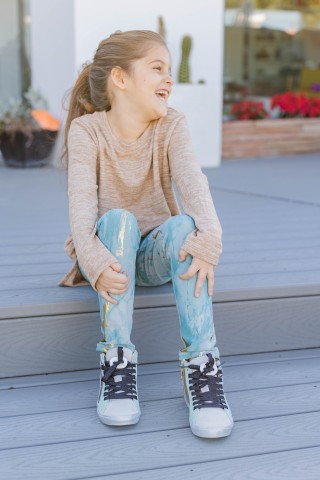 He had always made it a point to teach his students how to tie shoes. It was one of his favorite units to teach in class because of the instant pride that exudes from each student after they learn. His favorite reaction is when they would run over to a friend who didn't know yet and they'd show their friend how to tie shoes, and on and on it would go. He takes pride in instilling confidence and independence within his students. Telling someone how to do something is one thing, but showing them how to do it themselves is what it's all about for him.
For years during his how to tie shoes lessons he would make little tools and provide numerous methods for his students to try to learn. As he kept tinkering with tools that helped his students learn shoe tying, he stumbled on a simple tool and method that revolutionized shoe tying in his classes. The process of teaching students to tie their shoes went from a multiple week unit to a one day unit in which over 90% of his students, regardless of their age or ability level were able to successfully tie their shoes after just one lesson. For years he had been using this simple tool in his classes with unbelievable success and now Training Ties® are ready to help everyone else outside of his classroom!
Video Link: https://www.youtube.com/embed/F6f3FYYno80
After being let go due to COVID, his beautiful and intelligent wife suggested him to start a business based on his simple how to tie shoes tool. So, he did it! He invented Training Ties to aid in the learning process like Training Wheels does for bike riding. Training Ties DO NOT tie your shoes for you, they help you learn how to tie shoes. Other shoe tying aids like Velcro, Lock Laces, Crocs, Hickies, etc. all skip the learning, which eventually leads to becoming reliant on them. Training Ties on the other hand are meant to help learn so one day, like with Training Wheels, you won't need them anymore, but you'll probably choose to wear them anyway!
Contact: [email protected] for injuries related to news/blogs/sales etc.
Media Contact
Company Name: Training Ties®
Contact Person: Bobby Morong
Email: Send Email
Phone: 7817896022
Address:302 La Soledad Way
City: Oceanside
State: CA 92057
Country: United States
Website: https://www.trainingties.com/