Hereditary Angioedema: Overview, Epidemiology, Treatment Market, Emerging Drugs and Key players
DelveInsight's 'Hereditary Angioedema Market Insights, Epidemiology, and Market Forecast—2030' report delivers an in-depth understanding of the Hereditary Angioedema (HAE), historical and forecasted epidemiology as well as the market trends in the United States, EU5 (Germany, Spain, Italy, France, and United Kingdom) and Japan.
Hereditary Angioedema is a rare genetic disorder that is caused due to the deficiency in functional C1 inhibitor (C1INH), which results in recurrent attacks of localized subcutaneous or mucosal oedema, most commonly affecting the skin, intestines, upper respiratory tract, and oropharynx.
How Hereditary Angioedema has impacted people's lives?
One in 50,000 individuals is affected by Hereditary Angioedema in the United States.
Hereditary Angioedema prevalence was estimated to be 4.1 per 10 million people in Japan.
Hereditary Angioedema is seen more prevalent among females than males.
How will Disease transform Hereditary Angioedema Market?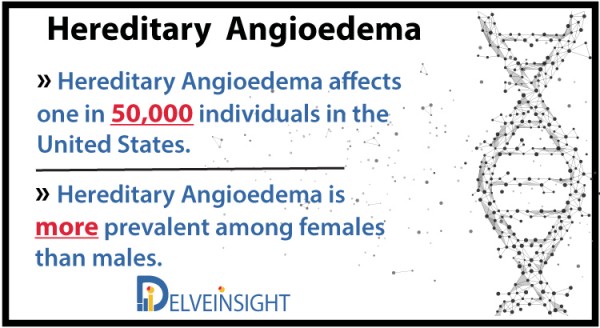 In the current Hereditary Angioedema treatment landscape for on-demand treatment, there are many options, like recombinant human C1-INH, icatibant (a bradykinin B2-receptor antagonist), intravenous plasma-derived C1-INH (C1-INH[IV]), and ecallantide (a kallikrein inhibitor).
Nevertheless, the current prophylactic treatment approaches are minimal and have major tolerability issues because of burdensome administration requirements leaving patients with a few therapeutic options.
Hereditary Angioedema treatment options were severely lacking or associated with significant adverse effects in the United States; but, few products are currently approved and registered by the FDA (the United States Food and Drug Administration), the EMA (the European Medicines Agency), and several other countries to treat HAE with additional agents presently undergoing clinical trials.
The FDA gave the pdC1-INH agent (Haegarda) a green signal for prophylaxis of Hereditary Angioedema in adolescent and adult patients in 2017. This is the second agent approved for HAE prophylaxis and the first C1-INH for S.C. administration.
Which biotechnical companies are developing Hereditary Angioedema drugs?
Key players, such as BioCryst Pharmaceuticals, Ionis Pharmaceuticals, Attune Pharma, and many others, are involved in developing therapies for Hereditary Angioedema treatment market.
Several Hereditary Angioedema potential therapies are under investigation. These include newer agents that had shown its efficacy in the treatment and prevention of Hereditary Angioedema, including BCX7353 (BioCryst Pharmaceuticals), IONIS-PKK-LRx (Ionis Pharmaceuticals), and ATN-249 (Attune Pharma), which are undergoing evaluation in Hereditary Angioedema.
Media Contact
Company Name: DelveInsight
Contact Person: Priya Maurya
Email: Send Email
Phone: +919650213330
City: Albany
State: New York
Country: United States
Website: https://www.delveinsight.com/