Soda Ash Market Size Worth $26.6 Billion by 2025 | CAGR: 13.9% | Astute Analytica
Global Soda Ash Market – Industry Dynamics, Market Size, And Opportunity (By Type – Synthetic And Natural, By Grade – Light And Dense, By End-User – Industrial, Automotive, Environment, Chemicals & Fertilizers, Soaps & Detergents, Electronics, Paper & Pulp, Water & Waste Water, Dyes And Coloring Agents, Export-Imports, Production Capacity, Price, Cost Breakdown) Forecast To 2025
Astute Analytica publishes another report on the Global Soda Ash Market. As per the published report, the soda ash market is estimated to grow at a CAGR of 13.9% and 7.2% in terms of revenue and volume, respectively. The global soda ash market is projected to reach US$ 26.6 billion and the volume is expected to cross 80 million tons by the end of 2025. The significant growth in the revenue of the soda ash is owing to the growing trade of soda ash from the countries production soda ash. Additionally, production of synthetic soda ash is also growing, and production cost is more as compared to natural soda ash thus contributing the revenue growth of the market.
The soda ash has various applications across different industry verticals, for instance manufacturing of soaps, detergents, glass, water bleaching, and as an ingredient in the food industry. Detergent industry is one of the oldest end users of soda ash which is used in manufacturing of many products. It is the primary raw material in the formulations of soaps, detergents, and other cleaning compounds. As a result of rising awareness related to personal hygiene, liquid soap is also preferred and holds a considerable position in market. The global liquid soap market size was estimated at US$ 18.50 billion in 2018. The consumption of liquid soaps in household was more than 60% in the recent years.
Request for a sample report At : https://www.astuteanalytica.com/request-sample/soda-ash-market
In the agricultural sector, soda ash is used as a natural fertilizer which provides nutrients to soil and improve the structure of soil and increase its ability to hold water and nutrients. In India, soaps & detergents holds more than 35% of the share in demand pie and the country holds a major share of soda ash as fertilizer owing to its large population base and huge dependency on the agriculture sector for food and employment.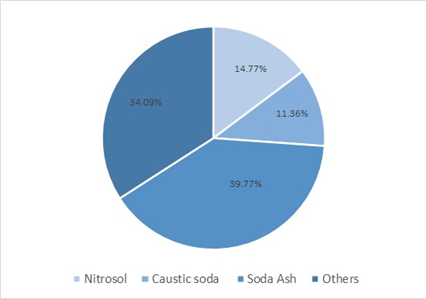 Natural deposit of Soda Ash are majorly found at Wyoming (US), Turkey, Lake Magadi and others. For different processes, raw material varied, but Trona is majorly used as raw material in soda ash production. Trona is mined underground and then processed into soda ash. Mines are mined through a room-and-pillar system where a series of parallel drifts are driven. Afterwards, purification process begins and Solvay process is used to remove the impurities. Some of the mining association are Wyoming Mining Association, Industrial Minerals Associations, and others. Near to 75% of soda ash is synthetically produced from either the Leblanc process, Solvay process, Modified Solvay (Dual) process or dry lime process. Solvay process for synthetic soda ash production, in which limestone and salt are combined in a multistep reaction to yield soda ash (sodium carbonate) and calcium chloride, was the basis for some of the earliest large-volume industrial chemical plants.
Get Full Research Summary on "Global Soda Ash Market": https://www.astuteanalytica.com/industry-report/soda-ash-market
The global soda ash market is observed to have an oligopoly nature and is projected to shift towards monopolistic nature in the forecast period. The market witness high intensity of rivalry specially amongst China, Turkey and the U.S. Amongst these three, Turkey and the U.S. competing on natural soda ash front whereas, China has huge capacity to produce synthetic soda and accounted as the major producer and exporter of soda ash before Turkey came into the competitive scenario. The capital-intensive nature of the soda ash business creates a moderate barrier for the new market entrants. But, considering the large-scale companies and groups, the soda ash business act as opportunistic investment which makes it moderate scale of impact. For example, thelargest natural soda ash production facility in Turkish Kazan came up with the capacity of 2.6 MTPA and Yildrim Group initiated Qazaq Soda project in the Taraz City of Zhambyl Province of Kazakhstan with the goal of producing 500,000 tons of soda ash per year with an investment of US$ 400 Mn in the first phase.
Find more research reports on Chemical Industry by Astute Analytica
Global Isopropyl Alcohol (IPA) Market – Industry Dynamics, Market Size, And Opportunity Forecast To 2027
Global Industrial Alcohol Market – Industry Dynamics, Market Size, And Opportunity Forecast To 2027
Media Contact
Company Name: Astute Analytica
Contact Person: Akanchha
Email: Send Email
Phone: +18884296757
Address:BSI Business Park H-15, Sector-63, Noida UP- 201301 – India
City: Noida
State: Uttar Pradesh
Country: India
Website: www.astuteanalytica.com